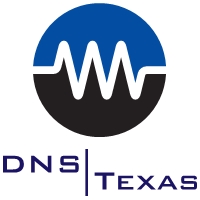 DNS Texas offers a wide variety of reliable, hosted solutions at competitive rates, for both business and residential customers. We are proud to be U.S.A. based, including our servers, networks and sales/support teams! We provide a one-stop location to help with your secure offsite data backups, co-location, domain registration(s), SSL certificates, web hosting, e-mail hosting and/or any hybrid-cloud based projects! We're always adding new services and welcome any ideas for new services that you may have! Thank you for visiting!
 
Company News     [View All]
March 2021, DNS Texas introduces new flat rate service charges for both remote and onsite services (effective 01 April 2020).  We have also made changes to our late payment policy and split web hosting offerings into personal and business.  See full details here: https://www.dnstexas.com/202103/dns-texas-service-change-announcement
July 2020, DNS Texas enables DDoS and other protection measures on hosted WordPress wp-login.php and xmlrpc.php files. Utilizing, in part, the CloudFlare network to protect against unauthorized logins and brute force login attempts. This is a free protection service for all hosted customers that is implemented at the server level, no user action required to benefit from this protection. If you encounter any issues logging in to your WordPress admin portal or if you wish to opt-out [Open A Ticket].
June 2020, DNS Texas moves hosted DNS lookup services behind CloudFlare DDoS Protection Systems. This is in response to ongoing, non-stop attacks on our systems. Hosted customers will not need to make any changes or change the way they do anything. This is an automatic change at the server level.
 
Reliable Hosted Solutions With Competitive Rates
DNS Texas is proud to offer leading hosted services, with 99.6+% up-time on average. Whether you are a beginner or professional in the hosted services world, we will help support all aspects of your hosted solution(s) with DNS Texas. If you have custom hosting needs, co-location or hybrid solution needs simply [Contact Us] and one of our experts will discuss all available options with you! Our goal is to provide popular hosted services without breaking the bank and look forward to having the opportunity to work you and your team!
 
Why Choose DNS Texas?
There are many choices when choosing a hosting provider, so why should you consider DNS Texas? We try and keep it simple! We aim to offer quality services and competitive prices without all the headaches that typically come along with hosting projects. We have set pricing, easy to use interfaces and can become a one-stop solution for your hosting needs! Here are the top 10 reasons you should give us a try!
Powerful & Proven : We provide current, popular hosted software and options, along with proven technologies to you and your customers!
Secure & Reliable : DNS Texas hosted services are secured using above average industry standards to safeguard your hosted data.
Friendly Support : We go out of our way to provide service that can't be found anywhere else!
Scalability : We offer enterprise ready solutions at competitive rates and can scale to meet your ongoing needs!
Satisfaction Promise : 30 day money back guarantee on all hosted services! [See Conditions]
Transfer Assistance : We'll help you move from your current hosting provider to our platform at no charge! [See Conditions]
Acceleration Included : On all web hosting packages, acceleration is included for free!
Affiliate Program : Help us grow, while making some money for yourself!
USA Based : Our server farms, network and sales/support are all in the U.S.A.
Unique, Customized Hosting Plans : We will work with you to achieve your customized hosting needs, at a price that's within budget!  If you don't find a plan on our site that works for you, reach out and let us build you the perfect plan for your hosting needs!
Tags: #dnstexas #exchange #wordpress #provider #backup #service #hosting #iis